Bathroom cabinets can be useful for filling any additional space and converting it to some extra storage space in your bathroom. These can come in various forms and shapes, and are a crucial design feature of any bathroom. If you want to change the entire look and feel of your bathroom, your cabinets are a great place to start. It's often one of the first things spotted in the bathroom, so well designed cabinets can be a real eye catching feature.
Futu-Rustic
This little simple cabinet can work well with both rustic and modern designs, even ones which go beyond contemporary. An under-sink cabinet won't take up excess space, making good use of an under-utilised section of most bathrooms. A compact, small bathroom will benefit the most from such a feature.
In a modern bathroom it can have a different faucet and knobs. One of the key features is that the surface is sandable, so if you radically change the design of your bathroom you can sand and paint it to match the new colour scheme.
Multiple Hanging Storage Boxes
This is a futuristic approach which can find use in post-modernist style bathrooms.  As these are fixed with anchors, all boxes are separate and scattered throughout a wall. This is a great way to organise the space, as it doesn't rely on the amount of floor space you have but on the size of the wall. They can be used to store all manner of items, so it's another good way to organise cabinetry in a small bathroom.
Rustic and Large
Cabinets are one of the things that made  old bathrooms  distinctive from more modern styles. The classic bathroom, which the present-day rustic kitchen is trying to emulate, usually had a huge bathroom vanity, which was a central part and was used as storage. However, extra space won't hurt – particularly in a modern bathroom.
This wall-to-wall vanity in the image above features two sinks, each with a large mirror above. The white colour makes it look less robust, which is an ideal fit for brightly lit compact bathrooms. And there's enough space for everything you could ever needed to store there.
Handy Pull-Out Side Shelf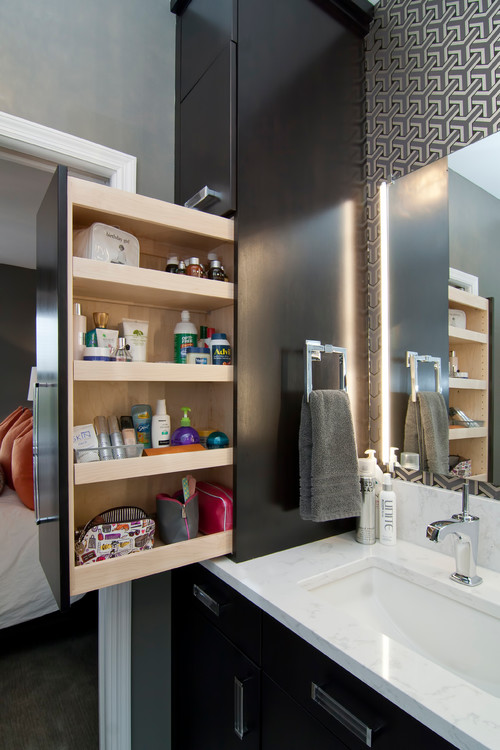 From a practical perspective, the best thing a cabinet can offer is to be spacious and easy to reach. Pull-outs aren't just for closets and kitchen cabinets. In the bathroom, you can have a series of several pull-out shelves, or place it between two cabinets. This can accommodate various small items in a more effective way than many other cabinets or shelves.